You have an option to have a border added to your T-shirt quilt. Here is some basic information about borders.
Definitions: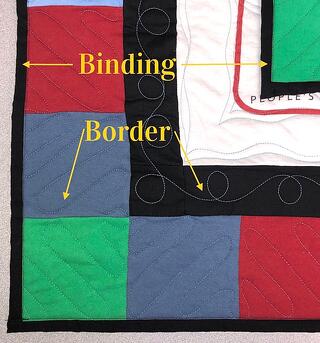 Binding – All our quilts have a binding. The binding is a piece of material that is sewn around the entire outside edge of a quilt that finishes the raw edges of a quilt. You will see only about ½ inch of the binding from the front and back of a quilt.
Border – A border is a frame that goes around the entire quilt top. The border is actually part of the quilt top and is thus quilted, as is the quilt. The border is made from T-shirt material. A border can be a simple frame or it can be designed to accent the colors in the quilt. A quilt does not have to have a border.
Usage:
To increase the size of the quilt. If you don't have enough T-shirts to make a quilt as large as you would like, a border can be added to increase the size of a quilt. For example, a 4" border can add 8" to the width and length of a quilt.


A border can be used as a design element in your quilt. If you choose a border for a design element, remember, you won't need as many T-shirts as you normally would for the size you are looking for. Get with us to calculate the number of T-shirts you may need based on the style of border you would like.
Color Choice:
If you decide to have a solid border, you just need to choose one color. If you would like a pieced border, you have many options. For example, with a pieced border, you could choose two colors, three colors, many colors or many colors from one color family. We can help give you ideas about color options based on what we see after we cut your T-shirts. You are always welcome to ask for suggestions.
Pricing: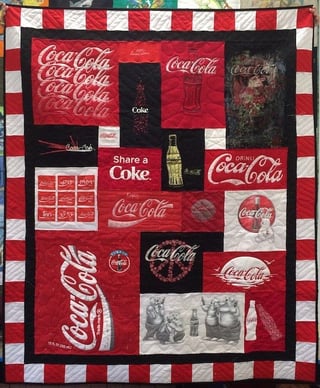 We have a number of different styles of borders that you can choose to add to your quilt. As the border increases in width and complexity, the price of the quilt increases. Here is a link to the pricing page that has pricing information on quilts with borders.
To learn more about having a quilt made from your T-shirts, download our free T-shirt Quilt Buyer's Guide. It's a great place to learn about the different styles and quality of T-shirt quilts.
Photos of T-shirt Quilts With Borders: