A Quilt for the New Baby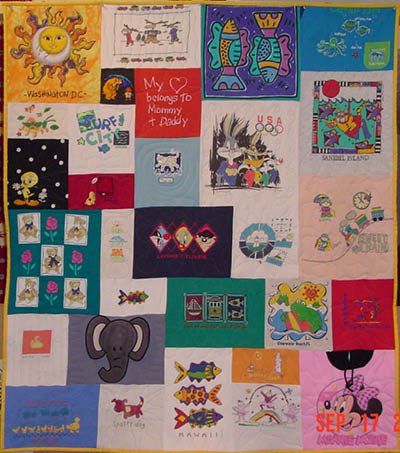 T-shirt Quilt Baby Blanket – A T-shirt baby quilt is a soft cuddly blanket that will be used and treasured as that new baby grows up. A T-shirt quilt makes an awesome shower gift or a gift from Grandmother. These quilts are made out of T-shirts. Sometimes the T-shirts are the parent's T-shirts or from friends of the parents. Other times these T-shirts are made from T-shirts themed for babies – Sesame Street, Elmo, puppies, trucks and the like. This type of quilt is an amazing gift for baby showers. The best thing about T-shirt quilts is that you can wash them over and over and they just keep getting softer.
Collecting Suggestions:
Choose T-shirts with cute designs and images that a baby and young child will enjoy looking at and touching. But since many images that children like are small or on small T-shirts, it may take more T-shirts than you would expect. If the quilt is for a shower, have each invited guest supply 2 to 6 T-shirts. This will need to be done well in advance of the shower. Garage sales or Goodwill are also great places to acquire baby themed T-shirts.
If the quilt is coming from the family, ask each family member to collect a certain number of T-shirts. Some family members may even have T-shirts from their own children.
A Quilt from the Baby's First Year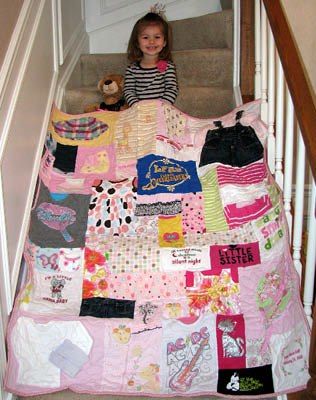 Baby Clothes Quilt – These quilts are made out of baby clothes – generally from the first year of a baby's life. They are so cute! All your babies clothing from his/her first year – include onesies booties, bonnets, sock, hats, blankets, dresses, bloomers and anything else you have. A piece or two from each item or the entire outfit can be used.
Collecting Suggestions:
Save all your baby's clothes for their first year. These are great quilts for a baby's grandmother to fund since they are expensive.