Family Reunions
Collect the T-shirts and make a quilt that everyone will fight over!
Below is a facebook conversation about who gets the new quilt. And this was before anyone had even seen the quilt is person!

We all love the quilt, just from the picture that you sent! I can't wait to see it tomorrow! Many of my relatives have already posted the picture on Facebook. Here are the comments on one of my daughters' post. Thank you so much, Laura
My Mom just got all our reunion T-shirts from over the years made into a quilt. My sister and I both want it so she has sparked our first ever family feud!!
Ginny: I want it too!!
Pam: What a good memento. Rock, paper, scissors? Cutest kid contest? Sucking up to Mom contest?
Stephanie: You could get someone to make a quilt just like it...
Meg: Sounds like from your Mom's post that it is HER Quilt!
Lee: I'm sorry. You are out of this. Maybe you could make something out of some of Sam's old shirts. I'm sure it will be nice. I like the idea of a cute kid contest. Unfortunately, Beth has REALLY cute kids.
Stephanie: I don't have the shirts!
David: Hmmm... This could be a Solomonic decision. If Beth has the T-shirts still, she could be considered the rightful heir to the quilt. Shouldn't it go to the one who cared enough to save the shirts?
Lee: NOOOOO I mean I can't make my own because I don't have the shirts. Beth probably doesn't have the shirts either. Ginna was the hoarder who kept all the shirts.
David: Let's see what Beth has to say. Maybe she has a box full of shirts stashed away someplace. If so, maybe she'll let you have them when she gets the quilt.
BaconLeg: It's a three-sister feud now!
Lee: Bring it!!! You want some of this??
Carrie: You have a sister named Baconleg!? I think she should get it based on that alone.
BaconLeg: I LOVE YOU, Carrie!!
Beth: I have some of the shirts, but not the really old ones from when I was a kid. Why would my Mom allow those to be disappeared? That is the question. I sort of think she owes me the quilt for not keeping better track of things that might or might not be important one day.
C
arrie: My sister's friend made a quilt for her out of a bunch of her son's baby shirts... Then one for her daughter out of her favorite baby shirts... Then one for my sis and husband out of all their college swim shirts (they swam at division one school)... It is quite a cool idea! You should start hoarding ;)
Rhys: I hate to suggest a craft solution (well, not really), but why don't you start collecting tees from Iain as he grows and make your own quilt to keep your empty nest warm when he's off at college. ♥
Lee: Now I'm feeling sad I don't have all the baby shirts!! GREAT idea!! I am fully aware that we are the dorkiest family ever. First of all, we wore the shirts obsessively and now we are fighting over them. I don't even care.
Sue: So cute!
Allyson: This is GREAT! She will just need to make another one!
Lee: Yes but no one has all the T-shirts anymore!!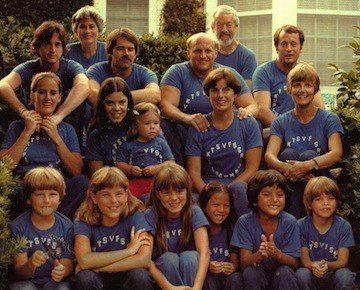 Allyson: She will have to come up with something, that's all! LOL
Pam: I bet if you Google solution to reunion T-shirt quilt problem there will be TONS of suggestions. :)
Lee: I agree!!
Pam: Yes-- I'm sure many are in this predicament of having to recreate shirts from the 1970s so they can be crafted into a quilt. I might even start a business.
Arlene: Your Mom didn't order 2? Oh my word, I guess she can tell me a number 1-5 and you two guess it and see who comes the closest get it. That could have been an amazing Christmas present. WOW how neat.
Mom: Oh my goodness! They know that the quilt is mine, and they are talking about after I die! What they don't know is that I'm planning to be cremated with my quilt!
Laura: Mom-- gross. I thought we were having you squeezed into a diamond when you die. I will givethe diamond to Beth as long as I get the quilt. That's how generous I am. Oh, and yes, we are the dorkiest family ever. I know that some families fight over property, money, furniture or jewelry! But we have something even better to fight over!
To learn more about having a quilt made from your T-shirts, download our free T-shirt Quilt Buyer's Guide. It's a great place to learn about the different styles and quality of T-shirt quilts.